2Rock Acrobatic Rock 'n' Roll Club
Acrobatics, Paired Dance Aerials / Airsteps, Lifts & Tricks
FREE* Intro Sessions In July Only
*FREE for first-timers (book your spot in advance via Contact page) or £12-15** for repeated customers.
**The more session and the sooner you prebook, the less you pay per session.
2 hours of paired acrobatics - dynamic standing acrobatics as seen used in acrobatic rock and roll dancing.
Suitable for all - total beginners, intermediate and advanced - people of different level will try different acrobatics.
New people will learn intro into partner acrobatics, basic lifting technique, others will either repeat or improve their moves learned previously or add something new.
Not a first-timer? Get a discount in a few ways
REFERRAL program for our current and past members: If you are not a first-timer, bring a first-timer (your friend that is not yet on the 2Rock mailing list). If the friend purchases a session/course after the free trial, you'll get 20% OFF from their payment credited to you! The first-timer has to be registered in advance by you or they have to mention you as the referral.
Register by email to Steve@2Rock.org or via www.2Rock.org/contact.php
Example: you register a friend first-timer and they will book more sessions in bulk, paying e.g. £60, you'll be credited £12 that you can use for your next booking.
Other way of getting a discount is to pay for more sessions in advance. **The more session and the sooner you prebook, the less you pay per session.
And also LOTTERY - WIN a FREE season! If we beat the record of summer class attendance (18 paying customers), we'll run a lottery where you can win a free Sep - Dec season! So go and share (and like) this on your Facebook, in other FB groups, Instagram, Twitter, simply everywhere.
PS: If you think that you don't need to share because others will, well, the others might think the same. So it won't work. Then I will have to pay for advertising instead - and higher expenses might be reflected in higher price. Bear that in mind.
This Acrobatic Course takes place in London at 2Rock's usual time and place.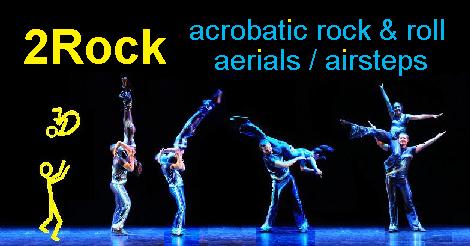 General information about our acrobatic rock 'n' roll sessions
Do you like dance aerials, adage, lifts, pair acrobatics? Have you danced acrobatic rock 'n' roll before? Or have you never danced acrobatic rock 'n' roll but would like to give it a try?
Day:

Monday (excl. bank holidays)



Time:

20:00 - 22:00



Location:



NB: The entrance is from the end of Torquay Street! Look for big red 'Academy Sport' on the wall.



Entrance Fee:

£15 per two hour session or
Check our Price page for special offers.
How to get there: Local buses, 18 & 36 run along the Harrow Road. The nearest tube station is Royal Oak. From the station go right under the bridge, there turn left, follow the main road. After 200 metres you will come to a petrol station. Turn left, walk up to the end of Torquay Street. Entrance will be on your right side. Changing rooms are situated on the ground floor, the dance studio is upstairs. Please, turn up earlier to change and pay (if you haven't prepaid online).
Partner: There is no need to bring a partner to this sessions, simply turn up. Having a permanent partner is an advantage though. Lessons are open to everyone of all abilities and interests. If you have any questions, please contact us.
Dress code: Sporty (similar to fitness gym or aerobic classes), something not very baggy, clean trainers, towel, water bottle.
Session structure: in the first hour: warm-up, rock 'n' roll dance preparation; second hour: acrobatic preparation, 1-3 acrobatic figures, cool-down. Those not interested in dancing can use first hour for repeating of acrobatic moves from previous sessions. Occasionally all teaching is squeezed into the first hour, followed by an open hour dedicated to practising, repeating of previous stuff.
If you like related sports like cheerleading, acrobalance, acro yoga, figure ice skating, trampoline or circus acrobatics, you will certainly love acrobatic rock and roll. Or maybe you would like to use your gymnastic skills or wish to improve your aerials, adage and lifts in other dances like Modern Jive or Lindy Hop. Why not join us and try something new? It is safer than you think. Everybody can do this.
ACROBATIC ROCK 'n' ROLL is the MODERN European style of competitive dancing, slightly different from the authentic 1950's style. And 2Rock is the acrobatic rock 'n' roll club in London and Cambridge, where you can learn this fast paced energetic dance.
We would like you to fill in a simple questionnaire (10 questions in 3 minutes) on the Survey page in order to set up the structure of the sessions to meet the requirements of the majority of members.
The club is lead by Steve 2Rock (Stefan Turok), an acrobatic rock 'n' roll coach with many years of experience as a coach, judge and dancer. He is still an active dancer competing at European Cups with his partner Laura Cope. European competitions are organised according to WRRC's rules. The club is a member of the BRRF, British Rock 'n' Roll DanceSport Federation.
The 2Rock website has been active since 8/4/2011. It changes regularly, so check the website from time to time, especially before your intended visit.
Our performances
Our own acrobatic rock 'n' roll dancers, couple Steve Turok and Laura Cope have performed for Got To Dance Series 3. The performance has been first time broadcast on Sunday 8th January 2012 at 7PM on Sky1 HD TV.
You could have seen them also performing at Corn Exchange or ADC Theatre in Cambridge at annual CUCDW dance shows, Cambridge University May Balls, Royal Albert Hall in London, also in Blackpool and many competitions, balls and other events.